June Virtual Programming & Activities
We hope you have been enjoying the first few weeks of warmer weather and have taken the time to get outside and look at the beautiful tulips blooming in the community.
The Accora Recreation Centre remains closed at this time. We really miss seeing our residents at the Accora Centre and we look forward to welcoming you back as soon as we can.
Virtual Fitness Classes with Shane Azzie
Join us Wednesdays at 5:00pm and Fridays at noon, for live, at-home workouts on YouTube featuring our Accora Village Personal Trainer, Shane Azzie. These classes will offer equipment-free workouts you can do from the comfort of your own home or backyard. To join this week, please visit us at:
Wellness Tips
Staying on top of your mental and physical health is extremely important during these unprecedented times. Below are some healthy snack tips and a workout you can do from home courtesy of the Accora Recreation team.
Wellbeats Virtual Fitness Classes 
Thanks to our friends at Wellbeats, you can continue to access high-quality fitness classes from the comfort of your own home. We've extended our membership so you will now be able to access these classes until May 31, 2020. Get moving!
Download WellBeats – App Store
Download WellBeats – Google Play
Water Safety Tips
With the warm weather upon us, the lakes and beaches surrounding Ottawa are a great way to beat the heat! It is important to always remember to be mindful of safe swimming practices to ensure a fun and safe experience.
Please click here to visit the Lifesaving Society's website for more information on safe swimming practices.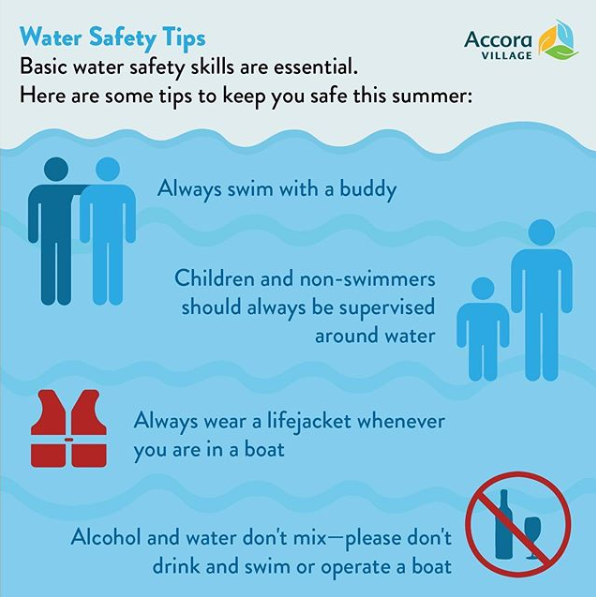 Parks, Play Structures & Basketball Courts
Bayshore Park has now re-opened to the public, including the sporting amenities. While the basketball courts, fields, and baseball diamond are now open, a friendly reminder that gatherings at these areas of over five (5) people is still prohibited. Please be mindful of appropriate physical distancing guidelines at all time.
As per the City of Ottawa guidelines, play structures remain closed until further notice. Therefore, the play structures near Deschenes Court and behind the Accora Recreation Centre are closed until further notice.
The City of Ottawa will be continuing to issue fines to anyone who is found to not be in compliance with bylaws. To learn more about the current COVID-19 restrictions, please click here. We thank you for your cooperation.
Accora Centre
We are happy to report we have a freshly painted, cleaned and sanitized Accora Centre facility. As we await the green light from the Government of Ontario to re-open recreation facilities, our team is preparing to implement a number of strategies to promote physical distancing with-in our facility and all of our programs. All our programs and services and health and safety practices have been modified to adhere to COVID-19 health and safety guidelines. More details on programming, member services and timelines for re-opening will be made available in the coming weeks.
Please note: All memberships and the associated payments have been temporarily suspended and are set to resume when we re-open. Membership terms have been extended to reflect the closure period.
Should you have any other recreation questions or concerns, please contact us at play@accoravillage.com or (613) 366-5020 and press the prompt for Recreation.
We look forward to welcoming you back to the Accora Centre soon.
Your Accora Village Recreation team.